Regular price
Sale price
$8.95 USD
Unit price
per
Sale
Sold out
BUY ANY 2 OR MORE ITEMS GET 15% OFF ORDER! BUY ANY 4 OR MORE ITEMS GET 25% OFF ORDER!
Share
Galaxy S4 Cygnett Tats Cru Bio Graffiti Quiet Storm Soft-touch Case/Skin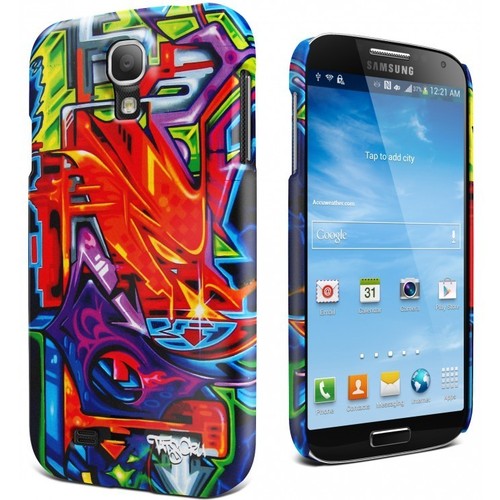 Internationally-renowned, Bronx-based professional muralists, TATS CRU, have spearheaded the battle to change the public perception of graffiti, since the early 1980s. From the early days of subway graffiti, TATS CRU has helped elevate graffiti to a public art form.
TATS CRU paint the famous Graffiti Hall of Fame in Harlem and receive recognition throughout the world for mural advertising and art – created for clients as diverse as small local businesses to corporations such as Coca Cola and Sony.
The New York icons are the subject of a feature length graffiti documentary TATS CRU: THE MURAL KINGS and their murals have been commissioned for hospitals, museums, schools and New York City institutions. Foundation TATS CRU member, Wilfredo 'Bio' Feliciano is known for his lettering, wild and intricate styles and explosive use of colour – he's a true master of New York style painting.
Features:
A uniquely designed case from internationally renowned muralists TATS CRU
Ultra-Slim design adds virtually no bulk or weight to your S4
Soft textured finish
Easy to install, snap on design
Includes screen protector for all round protection
Lifetime warranty/guarantee!
View full details
Featured collection
Welcome, please take a moment, look around and check out all our featured collection of products. We feature Apparel and Accessories, Customizable Products, Backpacks, Travel Bags, Travel Mugs, Duffel bags, Insulated Lunch bag coolers for adults and children and much more. We've also recently added and now featuring American made Novelty Metal Signs, Novelty Metal Key Chains, Novelty Metal Door Hangers, Novelty Metal License Plates, Novelty Mini Metal License Plates, Novelty Metal Bookmarks, Novelty Metal Postcards, Novelty Metal License Plate Frames, Novelty Metal Dog Tags, Novelty Metal Circle Coaster Sets,  and Novelty Metal Magnets. All American made items mentioned come in many sizes, shapes, colors, designs, categories and themes. We also sell on Amazon, Bonanza, Deviant Art, Ebay, Ecrater, Spread Shirt, Spread Shirt Shop, Teechip, Teespring, Link Pop Shop, Zazzle Store, have a Justinsestore brand on Amazon and our social media pages are Instagram, Pinterest, Twitter and Youtube. Please also read our Customer Reviews, FAQ Section, Store News, Shipping and Return Policy, for more information about this store. What is important to us is the customer experience. We treat our customers the way we would like to be treated with respect and fair pricing.