Rainbow Umbrella Desk Clock,Decorative desktop quartz clock Handlestand
Rainbow Umbrella Desk Clock,Decorative desktop quartz clock Handlestand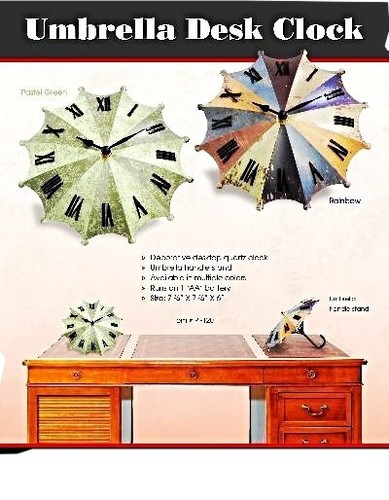 Unit Size: 7 ¾" X 7 ¾" X 6"
The Umbrella Desk Clock covers you in a different way! It may not cover you in a rainstorm, but the umbrella clock will keep you on schedule. Be punctual to a fault and decorate your office at the same time. One of these decorative quartz clocks can be provide a boost in office moral or liven up a home. An umbrella handle stand keeps the novelty clock upright so you can easily tell time. The rainbow design will look great on any desk. Keep track of time with a unique office clock! Runs on 1 'AA' battery. 
Expedited mail $0.00
Features
Delivery within 1-3 business days
Includes Delivery Confirmation (tracking)
best priced service (free!)
*Paypal is the preferred method of payment.
---